Underwater sightseeing
Departure from Naha City
Orca underwater sightseeing cruise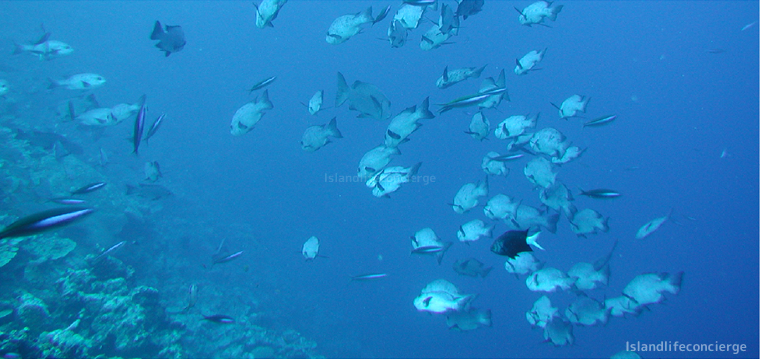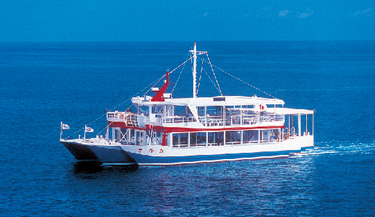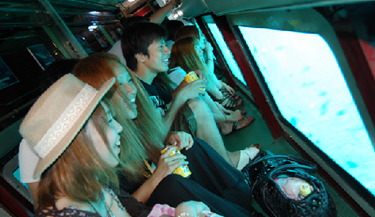 The Orca is the perfect option for people looking for the easiest and safest way to enjoy Okinawa's fascinating underwater world without even changing into a swimsuit. The Orca underwater sightseeing cruise offers the opportunity to observe colorful tropical fish swimming right in front of you, in a comfortable and dry environment.
The Orca departs from Naha Port five times daily. The third cruise, which leaves at 11:45, can be combined with a special lunch plan, including lunch at a designated restaurant after the one-hour-long underwater sightseeing cruise adventure. Scroll down for more information about the Orca underwater sightseeing cruise and lunch package. (*The cost of lunch is included in the package price.) (*There is no admission to ride the boat for children ages 4 and 5, but there is a lunch cost of 400 yen.)
*All prices listed include tax.
Cruise schedule
First cruise: departs at 9:00 (meeting time 8:40)
Second cruise: departs at 10:15 (meeting time 9:55)
*Third cruise: departs at 11:45 (meeting time 11:25)
Fourth cruise: departs at 14:00 (meeting time 13:40)
Fifth cruise: departs at 15:30 (meeting time 15:10)
*The third cruise (11:45 departure) can be combined with a special lunch plan in which passengers are able to enjoy a buffet-style lunch after the underwater sightseeing cruise.
Schedule
- Meet at Naha Wharf Passenger Meeting Area (20 minutes prior to departure)
- Departure from Naha Port
- Enjoy observing the beautiful underwater world at the viewing point
- Return to port (Approximate time required: 50-60 minutes)
*If you cannot arrive in time for your booked cruise due to unforeseen circumstances, including traffic jams and delayed or cancelled flights, you may be able to get on the next available cruise. In such a case, contact Island Life Concierge for assistance as soon as possible.
Orca underwater sightseeing cruise and lunch package
Japanese and Western buffet lunch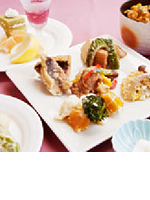 Nest Hotel Naha
The buffet features a large variety of Japanese and Western fare, including freshly fried tempura, salads, sweets and non-alcoholic beverages.
Place: Orion restaurant (Nest Hotel Naha), 1-6-1 Nishi, Naha City
Lunch hours: 11:30-14:00
Parking available
Open daily
---
Notes
- All prices listed include tax.
- Sailing schedule subject to change or cancellation due to weather or sea conditions.
- All cruise reservations are subject to seat availability.
- We, Island Life Concierge, act solely as an agent between the client and the service provider, and we are not liable for any injuries or deaths that may occur during the activities reserved through us.
Cancellation policy
- Cancellations made 1 day prior to the service date will be charged 50 percent of the full rate quoted as a cancellation fee.
- Cancellations made on the same day of service will be charged the full rate quoted as a cancellation fee.
- Please inform us of any cancellation at least two days prior to the service date in order to avoid any cancellation fees.
- All cancellations must be received by Island Life Concierge during office hours. Office hours: Monday-Friday 9:00-17:00 (local Japanese time)
- A full refund will be issued for the cruises canceled by the operator due to inclement weather, typhoon or other unforeseen circumstances.
Reservation deadline
- Reservations made by email or through the online reservation form: Two days in advance (reservations accepted until 17:00)
- Phone reservations: By 17:00 the previous day
- Reservations via email/inquiry form can be made up until two days before the requested day, and last-minute reservations, i.e., less than two days before the desired date, can be accepted exclusively by phone.
- Your inquiry will be responded to within two business days. If you would like a quick response, call us at 098-916-8593 or 090-1946-7593.
Service provided by
Westmarine, Ltd.
Naha Wharf Passenger Meeting Area 1F 2-1 Todocho, Naha City