Mangrove Kayaking & Boat Fishing Tour (shared group)
Departure from Kadena Town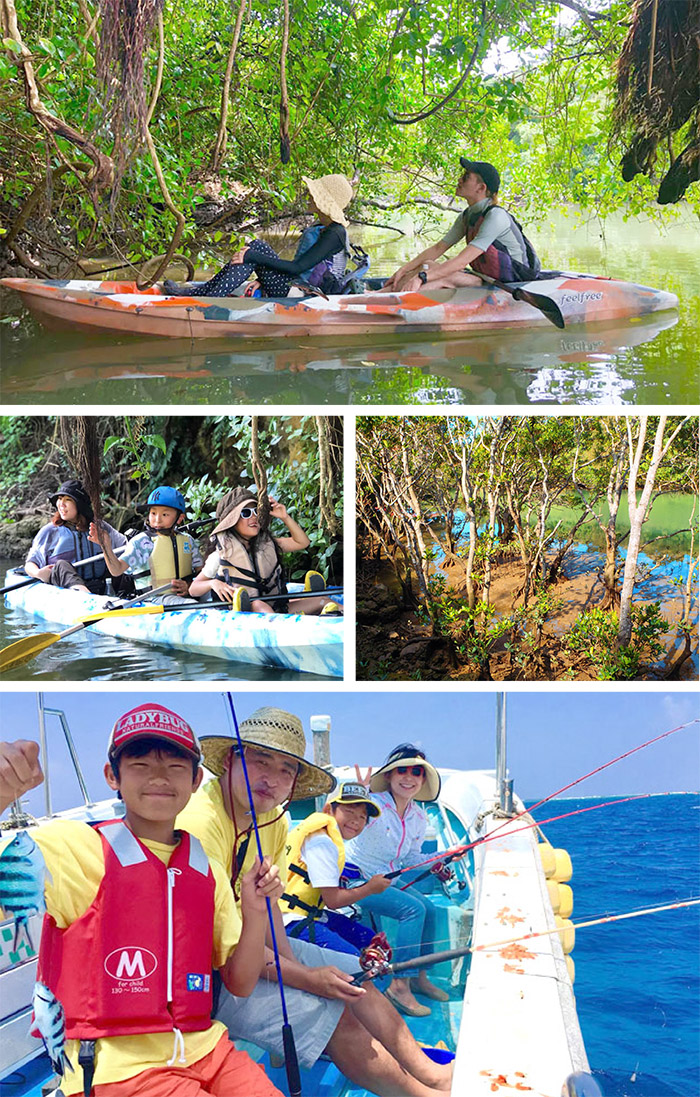 This tour set combines a simple light boat fishing tour and kayaking adventure into the Hija River mangrove forest. Ideal for families and groups, the tour is very suitable for beginners, young children, and even people with no experience on the water. Since our fishing points are nearby, you can enjoy almost the entire 2 hours of effective fishing time. Kayaking on the Hija River is convenient any time, with ten departures a day regardless of the tidal ebb and flow of the sea. In the area where mangroves grow over the river and sunlight shines through, you can listen to the murmuring of water and the sounds of nature enjoying true forest therapy. The departures are from the Kadena Fishing Port, and both parts of the tour can be enjoyed on the same day, making the set attractive and time-effective.
To enjoy fishing in private with your friends only, please check the charter information. Another popular option is the Sunset Kayak Tour.
Price:
Adult (Age 12 and over)  9,800 yen
Children (3 to 11 years old)    8,800 yen
The price includes a fishing gear set, bait, life jacket rental, boarding, kayak guide, all necessary kayaking equipment, and insurance.
Age restrictions : 3 years old and up
*Please contact us if you wish to bring along children under 3 years old.
Duration: About 4 hours (2 hours for kayaking / 2 hours for boat fishing)

Meeting times for Kayaking & Fishing combination:
9:00 (fishing) + 11:00 (kayak)
9:00 (kayak)  + 11:30  (fishing)
13:00 (kayak) + 15:00 (fishing)
Fishing Meeting Point
Location: Kadena Fishing Port
Address: 566-7 Mizugama, Kadena Town
Parking: Free
Kayak Meeting Point
Location: Umi Usagi Umi Ashibi (Shop)
Address: 6-25-3 Mizugama, Kadena Town
Parking: Free
Minimum participants: 1 person / each tour (up to 12 persons per boat)
Activity: All year
Boats: "Umi Usagi Maru" and "Sango Maru," both with outstanding stability
(Capacity 12 people/boat) *2 children under 11 years old count as 1 adult
Your catch:
If you wish, you can eat your catch at a nearby restaurant, provided your fish is suitable for cooking. The cost starts from 1,700 yen per person (yen only). As not all fish qualify, the captain of the day will decide if your catch is suitable for a meal.
---
Notes
- All prices listed include tax.
- The activity is subject to cancellation due to weather and sea conditions, especially during the months from December to February, when strong northerly winds often make the sea conditions rough in Okinawa.
- We, Island Life Concierge, act solely as an agent between the client and the service provider, and we are not liable for any injuries or deaths that may occur during the activities reserved through us.
Cancellation policy
- Cancellations made 2 days prior to the service date will be charged 25 percent of the full rate quoted as a cancellation fee.
- Cancellations made 1 day prior or the day of service will be charged the full rate quoted, no refunds.
- Please inform us of any cancellation at least three days prior to the service date to avoid any cancellation fees.
- All cancellations must be received by Island Life Concierge during office hours. Office hours: Monday-Friday 9:00-17:00 (local Japanese time)
- A full refund will be issued for the activities canceled by the operator due to inclement weather, typhoon or other unforeseen circumstances.
Reservation deadline
- Reservations made by email or through the online reservation form: By 15:00 the day before the desired date
- Your inquiry will be responded to within two business days. If you would like a quick response, call us at 090-1946-7593 or 090-3796-1550.
Reservation deadline
Service provided by
Umi Usagi Umi Ashibi  Ltd.
6-25-3 Mizugama, Kadena