Sunset Kayak Tour
Departure from Kadena Town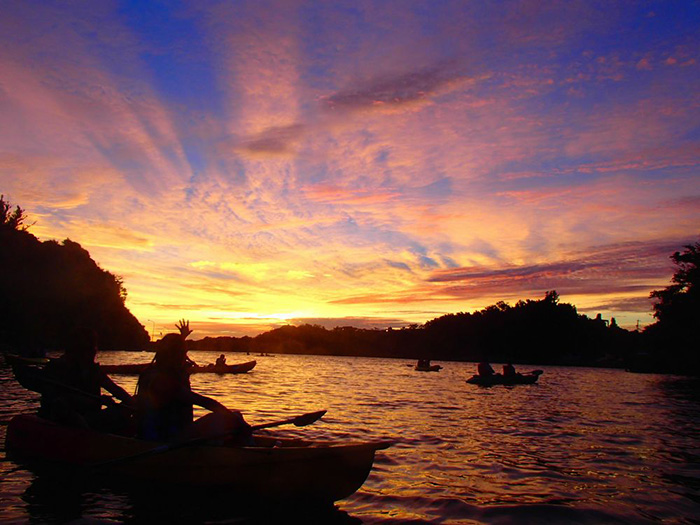 This two-hour kayak tour offers a romantic evening, taking you to the East China Sea from the estuary of Hija River, in Kadena Town, to watch the sunset from the water. You can appreciate all the sounds of nature on board since a kayak is very low in the water and has no engine. Enjoy a great view from the kayak with your loved one or family member. The tour is good for families with children since this is not an activity under strong sun.
* Please bring the following items: towel(s), change of clothes, sandals, cap or hat, plastic bottled soft drinks or water and insect repellent.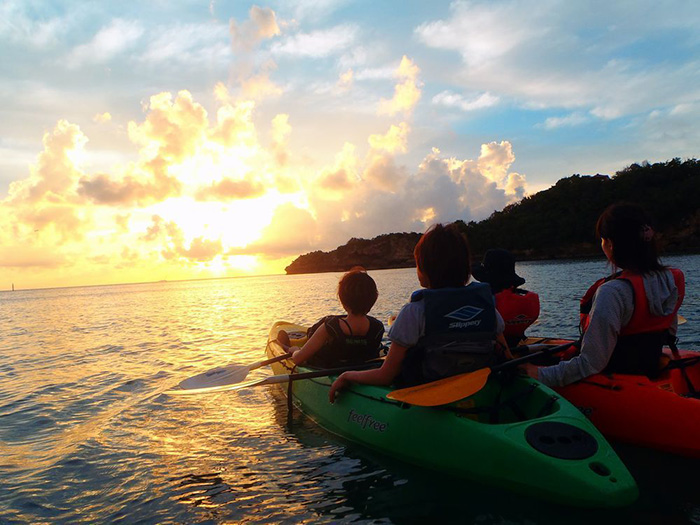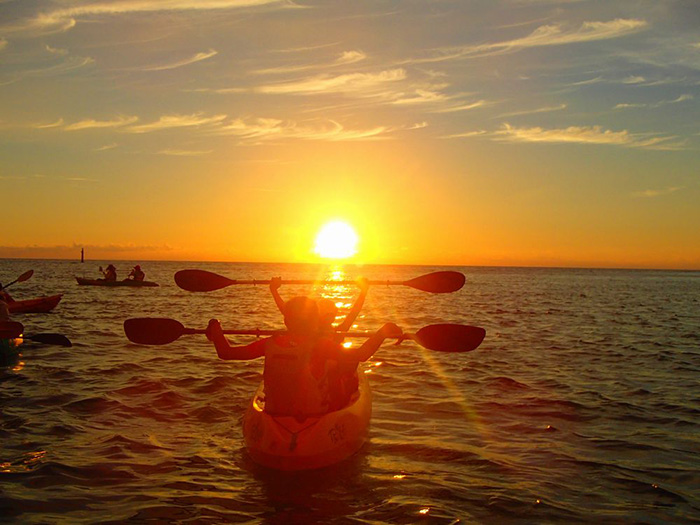 Schedule

*Please confirm meeting time in advance since it varies from season to season.
Meet at Umiashibi shop for signing up and getting changed
↓
Explanatory session on how to paddle a kayak followed by a practice session
(Approximately 30 minutes)
- Explanation of how to use paddles and the various creatures possibly encountered during the tour
↓
Depart for the sunset kayak tour (approximately 1 hour)
- Enjoy watching mangrove trees and their reflections on the water, various small creatures and more while listening to the guide's narrative.
↓
End of tour
---
Notes
- All prices listed include tax.
- The package is subject to cancellation due to weather or sea conditions.
- Be prepared to get wet, in particular slacks, shorts or skirts.
- Participants are advised to protect themselves from sunburn.
- Participants are required to always wear a lifejacket provided for safety reasons.
- Please understand that poor weather conditions could possibly obscure a view of the sunset.
- We, Island Life Concierge, act solely as an agent between the client and the service provider, and we are not liable for any injury or death that may occur during the activities reserved through us.
Cancellation policy
- Cancellations made two to four days prior to the service date will be charged 25 percent of the quoted full rate as a cancellation fee.
- Cancellations made 1 day prior to the service date and on the same day of service will be charged the quoted full rate as a cancellation fee.
- Please inform us of any cancellation at least five days prior to the service date in order to avoid any cancellation fees.
- All cancellations must be received by Island Life Concierge during office hours. Office hours: Monday-Friday 9:00-17:00 (local Japanese time)
- A full refund will be issued for the tours canceled by the operator due to inclement weather, typhoon or other unforeseen circumstances.
Reservation deadline
- All reservations: Five days in advance (reservations accepted until 15:00)
- Space is limited. Reserve as far in advance as possible for the best chance of securing your preferred date.
- Your inquiry will be responded to within two business days. If you would like a quick response, call us at 098-916-8593 or 090-1946-7593.
Service provided by
Umiashibi
468 Mizugama, Kadena Town