Kerama Islands Half-day snorkeling tour
Departure from Chatan Town
Kerama Islands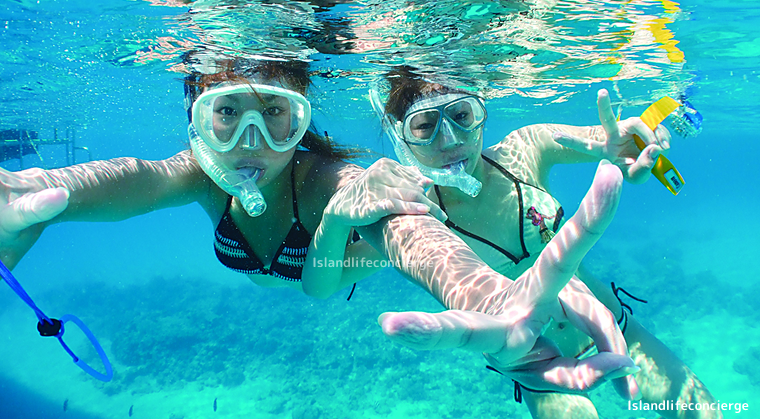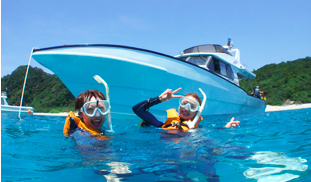 Are you on a tight schedule and looking for a way to experience the famous Kerama Blue through snorkeling? This tour is the perfect solution for you, making it possible to enjoy not only snorkeling but also a 40-minute cruise to the Kerama Islands in half a day.
The tour takes you to a snorkeling point near Nagannu Island which offers an extraordinary level of transparency, and where you can easily see colorful tropical fish from above the water's surface.
Style: Shared with other participants (not a private charter)
Schedule
8:00/12:30 Meet at Hamagawa Port and depart for Kerama Islands
↓
9:10/13:40  Arrive at the snorkeling point (Enjoy snorkeling)
↓
11:10/15:40 Depart for Chatan
↓
12:00/16:30 Return to Hamagawa Port
---
Notes
- This tour does not allow participants to disembark on island. The "Kerama Islands: Half-day tour to an uninhabited island by boat" is recommended for people wishing to enjoy exploring a Kerama island.
- Basically, tour participants enjoy snorkeling by themselves. There are some rare cases where the instructor will accompany you in the water.
- Participants are required to always wear a wetsuit or a lifejacket when enjoying snorkeling for safety reasons.
- Free diving/skin diving is strictly prohibited.
- Snorkeling masks with prescription lenses are available for nearsighted participants.
- The tour is operated on a shared basis, and the vessel is also shared with diving tour participants.
- The tour is subject to cancellation or changes to the destinations/route depending on weather and/or sea conditions.
- Guardian consent is required for participants younger than 20 years of age.
- All prices listed include tax.
- When participating with small children, please watch out for them and ensure their safety at all times.
- We, Island Life Concierge, act solely as an agent between the client and the service provider, and we are not liable for any injuries or deaths that may occur during the activities reserved through us.
Cancellation policy
- Cancellations made 2 days prior to the service date will be charged 25 percent of the full rate quoted as a cancellation fee.
- Cancellations made 1 day prior to the service date will be charged 50 percent of the full rate quoted as a cancellation fee.
- Cancellations made on the same day of service will be charged the full rate quoted as a cancellation fee.
- Please inform us of any cancellation at least three days prior to the service date in order to avoid any cancellation fees.
- All cancellations must be received by Island Life Concierge during office hours. Office hours: Monday-Friday 9:00-17:00 (local Japanese time)
- A full refund will be issued for the tours canceled by the operator due to inclement weather, typhoon or other unforeseen circumstances.
Reservation deadline
- A same-day reservation for afternoon tours is possible if you make a reservation two hours before each tour starts.
- All reservations: By 15:00 the previous day
- Space is limited. Reserve as far in advance as possible for the best chance of securing your preferred tour.
- Your inquiry will be responded to within two business days. If you would like a quick response, call us at 098-916-8593 or 090-1946-7593.
Service provided by
Jam Marine Club
6-22-13 Mizugama, Kadena town