Special Cruise Departure from Naha City
Departure from Naha City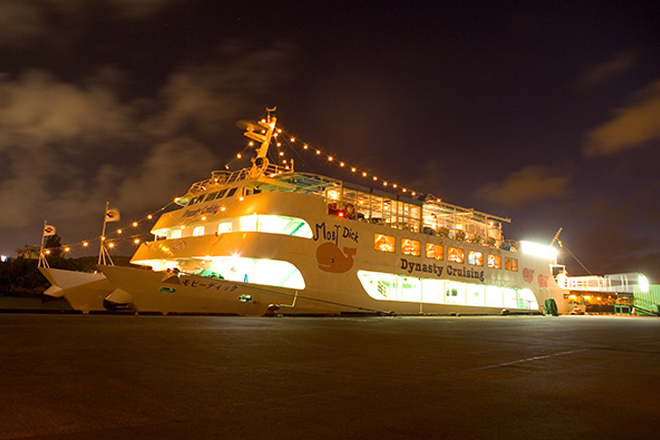 ※Buffet image is for illustration purposes.
The venue of hugely popular dinner cruises, Moby Dick of West Marine, presents a special one-night event. From the favorites of the 90's to the latest megahits, three of Okinawa's top DJ's from the trendiest local clubs spin all-genre music all night long. The night is sure to be a music event to make history. The two decks of the boat are converted to disco floors, with each of its own booth and DJ spinning non-stop. Just be ready for the grooviest special dance night of the season! The space is limited to 300 revelers, and reservations are first come first served. So, early reservation is seriously recommended. The Moby Dick Night Cruise sails on the waters of the dark East China Sea on one side and the night lights of Naha City on the other. Dancing the night away in the contrast of the darkness and city lights to the groovy disco music is a unique and memorable experience that only the Disco Night Cruise can offer in Okinawa.
You can't miss this cruise event to the tune of top music by three DJ's selected among top DJs at Saicolo, Be Green, Club X, Disco Eilly and many others.
Date: Saturday, Nov. 4, 2017
Price: ¥4,500
Boreding time:19:30
Departure:20:00
Return time:22:00
Duration: Approximately 2 hours
Departure port: Naha Port
DJ: Takeshi, Hiroshi, Mori
Food:Light meal buffet style

---
Notes
-The price listed includes tax.
-Sailing schedule subject to change or cancellation due to weather or sea conditions.
-All cruise reservations are subject to seat availability.
-The restaurant on the second floor is a no smoking area.
-There may be slight changes to the menu due to seasonal availability.
-We, Island Life Concierge, act solely as an agent between the client and the service provider, and we are not liable for any injuries or deaths that may occur during the activities reserved through us.
Cancellation policy
-Cancellations made 2 days prior to the service date will be charged 25 percent of the full rate quoted as a cancellation fee.
-Cancellations made 1 day prior to the service date will be charged 50 percent of the full rate quoted as a cancellation fee.
-Cancellations made on the same day of service will be charged the full rate quoted as a cancellation fee.
-Please inform us of any cancellation at least two days prior to the service date in order to avoid any cancellation fees.
-All cancellations must be received by Island Life Concierge during office hours. Office hours: -Monday-Friday 9:00-17:00 (local Japanese time)
-A full refund will be issued for the cruises canceled by the operator due to inclement weather, typhoon or other unforeseen circumstances.
Reservation deadline
-Reservations made by email or through the online reservation form: Two days in advance (reservations accepted until 17:00)
-Phone reservations: By 17:00 the previous day
-Reservations via email/inquiry form can be made up until two days before the requested day, and last-minute reservations, i.e., less than two days before the desired date, can be accepted exclusively by phone.
-Your inquiry will be responded to within two business days. If you would like a quick response, call us at 098-916-8593 or 090-1946-7593.
Service provided by
Westmarine, Ltd.
Naha Wharf Passenger Meeting Area 1F
2-1 Todocho, Naha City