Scenic evening cruise charter (on the All Marine)
Departure from Chatan Town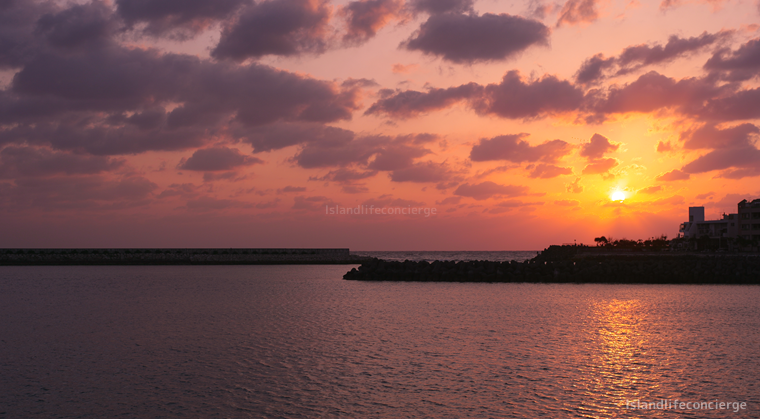 The popular scenic evening cruise departing from Chatan Fisharena can be made by private charter, too. The departure time is set perfectly for allowing you to appreciate both a breathtaking sunset over the sea and a beautifully lit-up view of Mihama American Village during this 40-minute sightseeing cruise.
Come aboard and enjoy the coastal landscape of Chatan from offshore exclusively with your friends and family.

---
Notes
- All prices listed include tax.
- The package is subject to cancellation due to weather and sea conditions.
- For reasons of safety, pregnant women are not allowed to participate in the cruise and BBQ package.
- We, Island Life Concierge, act solely as an agent between the client and the service provider, and we are not liable for any injuries or deaths that may occur during the activities reserved through us.
Cancellation policy
- Cancellations made 2-3 days prior to the service date will be charged 50 percent of the full rate quoted as a cancellation fee.
- Cancellations made 1 day prior to the service date and on the same day of service will be charged 100 percent of the full rate quoted as a cancellation fee.
- Please inform us of any cancellation at least four days prior to the service date in order to avoid any cancellation fees.
- All cancellations must be received by Island Life Concierge during office hours. Office hours: Monday-Friday 9:00-17:00 (local Japanese time)
- A full refund will be issued for the tours canceled by the operator due to inclement weather, typhoon or other unforeseen circumstances.
Reservation deadline
- All reservations: Four days in advance (reservations accepted until 15:00)
- Space is limited. Reserve as far in advance as possible for the best chance of securing your preferred date.
- Your inquiry will be responded to within two business days. If you would like a quick response, call us at 098-916-8593 or 090-1946-7593.
Service provided by
Chatan Uminchu no Kai Ltd.
4 Minato, Chatan Town